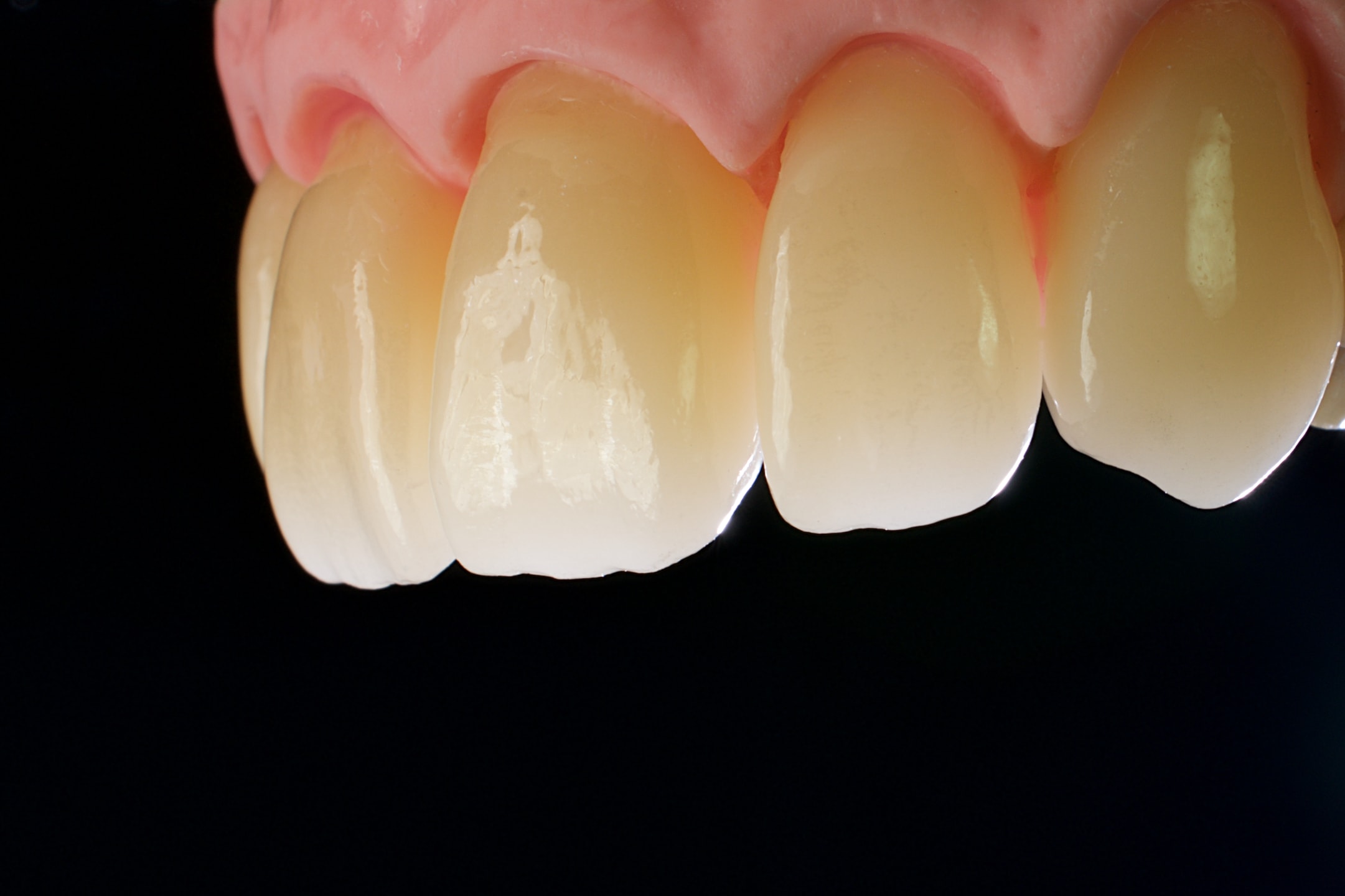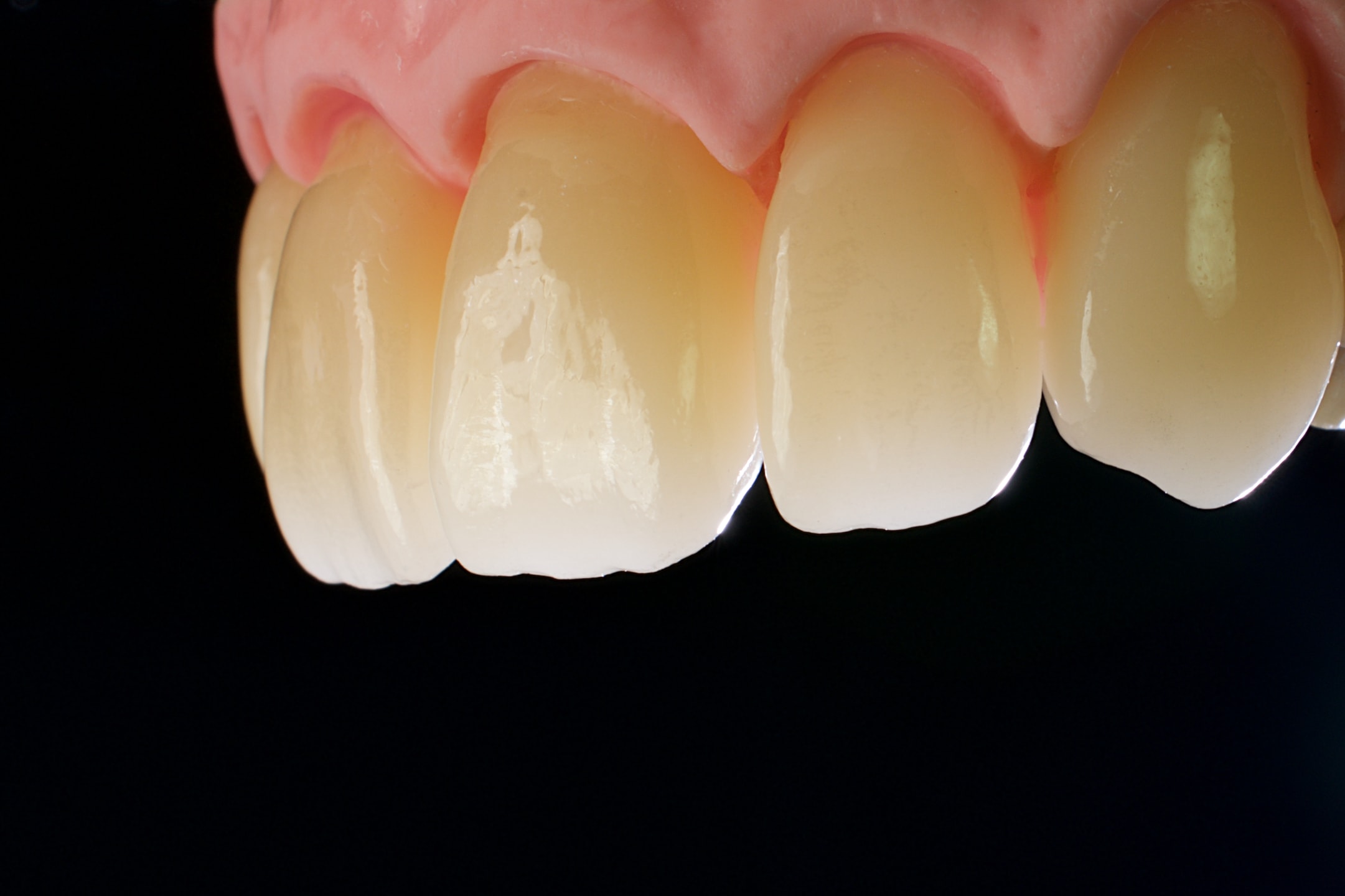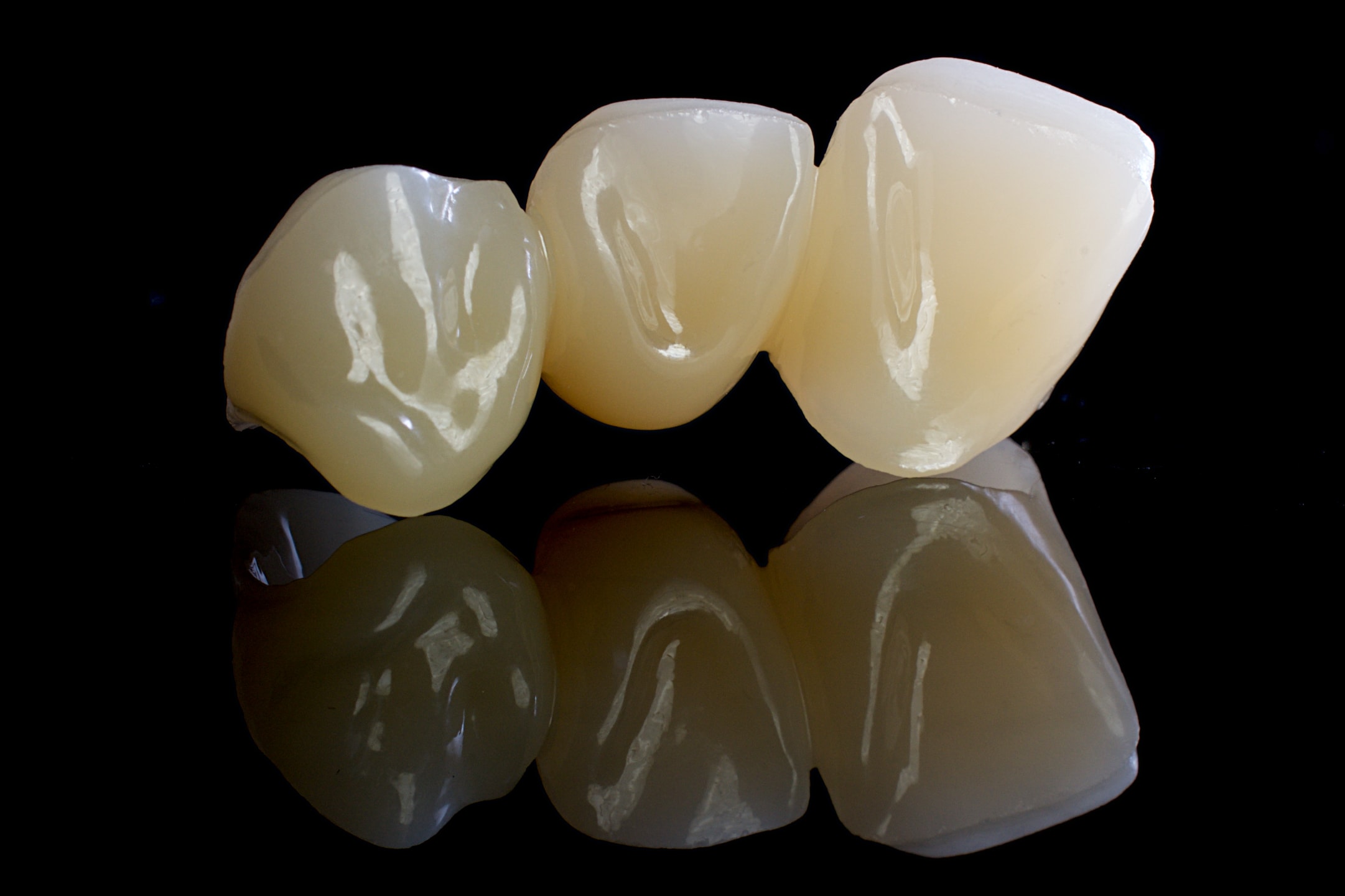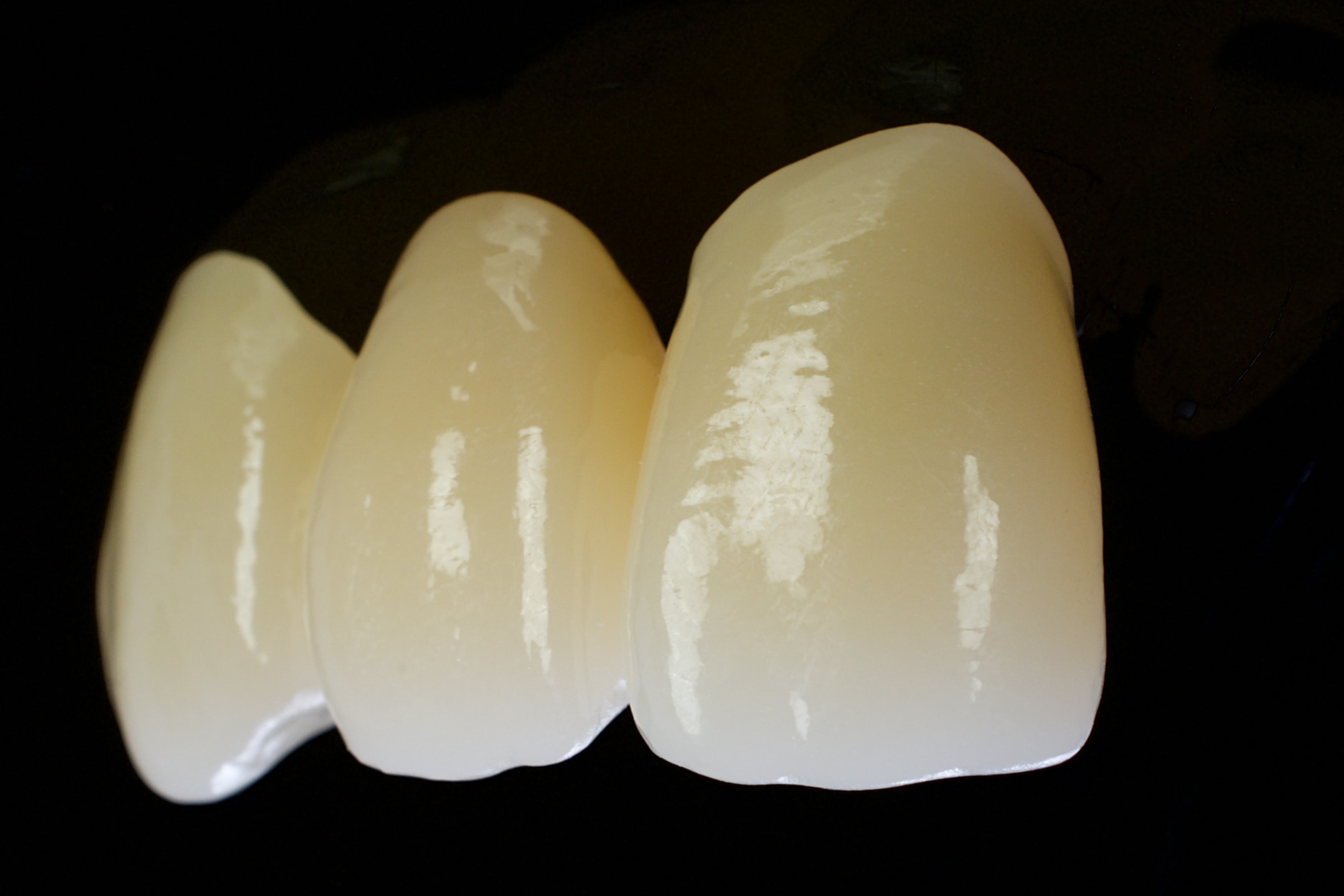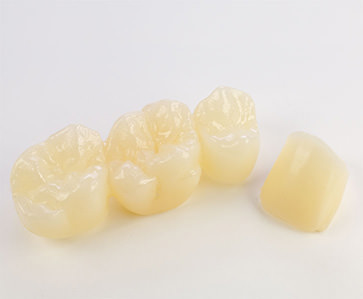 priti®multidisc ZrO2 multicolor High Translucent
For all open milling machines that accept round blanks with a diameter of 98.5 mm
priti®multidisc ZrO2 multicolor High Translucent is the material of choice for the most vibrant, highest aesthetics on restorations with up to three pontics.

(5Y-TZP) available in 7 color gradients and 1 bleach shade, 49% translucence, flexural strength > 650 MPa.
Adjusting the position in the same disc allows all 16 Vita shades to be achieved with just 7 blanks!
Indication
You can use priti®multidisc ZrO2 multicolor High Translucent to fabricate inlays, onlays, veneers, partial crowns, anatomically reduced and monolithic, fully anatomical crowns and bridges (up to three pontics) for anterior and posterior areas Translucence is comparable to that of lithium disilicate. Its high translucence and integrated color gradient mean the material is particularly suitable for efficient fabrication of non-veneered restorations.
MATERIAL
Zirconium dioxide Type II, Class 4 (DIN EN ISO 6872)
Flexural strength > 650 MPa
High translucence of 49%
Brilliant aesthetics
CTE (10,5 ± 0,5) ·10-6·K-1
Thin wall thicknesses of 0.4 mm for single crowns in the anterior tooth area and 0.6 mm in the posterior tooth area
Precise edges and margins due to highly compacted material
Veneering possible with any ceramic mapped to the CTE of ZrO2
Cross-batch color fidelity
Homogeneous block shading
Color can be reproduced at any time
Biocompatible
CHEMICAL COMPOSITION
Zirconium dioxide (ZrO2/HfO2): 89.89 - 90.7 %
Yttrium oxide (Y2O3): 8.55 - 10.11 %
Aluminum oxide (Al2O3): < 0.2 %
Other oxides: < 0.7 %
Systems must be constructed of the following specifications:
Crowns
Maryland-bridges
3-unit bridges
Minimum framework thickness
anterior
0.4 mm
0.4 mm
0.6 mm
Minimum framework thickness
posterior
0.6 mm
0.6 mm
0.6 mm
Connectors
anterior
6 mm²
6 mm²
Connectors
posterior
9 mm²
9 mm²
Framework design
Anatomically shaped (supporting veneer ceramics); fully anatomical
SINTERING
Recommendation for standard sintering:
Heating and cooling rate 10°C/min
Hold time 120 minutes at 1,450°C
Total sintering time approx. 7 hours
Recommendation on rapid sintering: (for bridges with up to 3 pontics)
Heating rate 10°C/min
Hold time 30 minutes at 1,500°C
Cooling rate 40°C/min
Total sintering time approx. 4 hours

Sintering together with other materials could cause unwanted changes in color and translucence. This applies particularly to materials processed using dye liquids. Sintering beads must also be replaced to avoid dye liquid residues.

It is particularly important to clean sintering furnaces that are contaminated by dye liquids before sintering a pre-shaded material for the first time. This prevents unpleasant surprises and allows optimum photo-optical results for the zirconium dioxide.

VENEERING
Any ceramic veneers recommended for zirconium dioxide ceramics may be used.
MILLING
Reduce feed rates during rough machining: The quality of milling depends on several factors including the machine, machining strategy, zirconium dioxide, etc. To ensure that you can achieve optimum milling results from the start with high translucence blanks, we recommend using a lower speed than with opaque materials during rough machining.
Job
Rough machining
Occlusal/cavity
Rough machining
Residual material
Tool diameter
2.5 mm
1.0 mm
Parameter:
↓
↓
Spindle speed
20,000-22,000 rpm
20,000-22,000 rpm
Feed rate
1,200-1,500 mm/min
1,000-1,300 mm/min
Infeed rate
1,000 mm/min
700 mm/min
Allowance
0.15 mm
0.15 mm
Tool path distance
1.00 mm
0.20 mm
Step down/step over
1.00 mm
0.50 mm
Coated milling tools: These offer the benefit of low wear with longer tool life.

ADJUSTMENTS
Any adjustments required to the sintered restorations once compacted must only be carried out using diamond-coated tools to prevent damage to the material caused by local overheating or exposure of the surface of the restoration to excessive force.
FIXING
Restorations can be cemented conventionally with a zinc phosphate or glass ionomer cement or with self-adhesive and fully-adhesive fixing material.
COLOR-CODING
Through the measurement of the restoration height an even more precise positioning and color assignment can be made to the appropriate blank height. The positioning data apply mainly to anteriors. For posteriors we recommend a lower position. This prevents fused cusp areas appearing too white. An additional positive effect is the warm base hue due to the fissure pits.
| | |
| --- | --- |
| Restoration height | Blank height |
| 8 mm - 11 mm | 14 mm |
| 10 mm - 13,5 mm | 18 mm |
| 12 mm - 15,5 mm | 20 mm |
| 14 mm - 19 mm | 25 mm |
pritidenta®
Shades
Position
VITA classical®
VITA System
3D-Master®
top
A1
2M1, 1M2, 2R1,5
A light
middle
A2
2M2
bottom
A3
3M2
top
A3,5
3R2,5
A dark
middle
bottom
A4
5M3, 4L2,5
top
B1
B light
middle
bottom
B2
2L1,5
top
B3
3L2,5
B dark
middle
bottom
B4
3M3
top
C1
3M1
C light
middle
bottom
C2
3L1,5
top
C3
C dark
middle
4L1, 5E30
bottom
C4
5M1, 5M2
top
D2
D light
middle
D3
4R1,5, 4R2,5
bottom
D4
3R1,5, 4M1, 4M2, 4M3
top
0M1, 0M2
priti® bleach
middle
0M3
bottom
1M1
VARIANTS
| | | | | | | | | |
| --- | --- | --- | --- | --- | --- | --- | --- | --- |
| Hight | priti®bleach | A light | A dark | B light | B dark | C light | C dark | D light |
| 14 mm | 23103-D985-14PBHT | 23103-D985-14ALHT | 23103-D985-14ADHT | 23103-D985-14BLHT | 23103-D985-14BDHT | 23103-D985-14CLHT | 23103-D985-14CDHT | 23103-D985-14DLHT |
| 18 mm | 23103-D985-18PBHT | 23103-D985-18ALHT | 23103-D985-18ADHT | 23103-D985-18BLHT | 23103-D985-18BDHT | 23103-D985-18CLHT | 23103-D985-18CDHT | 23103-D985-18DLHT |
| 20 mm | 23103-D985-20PBHT | 23103-D985-20ALHT | 23103-D985-20ADHT | 23103-D985-20BLHT | 23103-D985-20BDHT | 23103-D985-20CLHT | 23103-D985-20CDHT | 23103-D985-20DLHT |
| 25 mm | 23103-D985-25PBHT | 23103-D985-25ALHT | 23103-D985-25ADHT | 23103-D985-25BLHT | 23103-D985-25BDHT | 23103-D985-25CLHT | 23103-D985-25CDHT | 23103-D985-25DLHT |
What our customers say about us.
"pritidenta systematized zirconia for success.
Very few of the zirconia blanks on the market stand out as unique. pritidenta found a way with excellent, natural-looking results through CAM techniques. Nesting high or low is not new, of course, but nobody has gone this far to make sure the end results are consistent and predictable..."