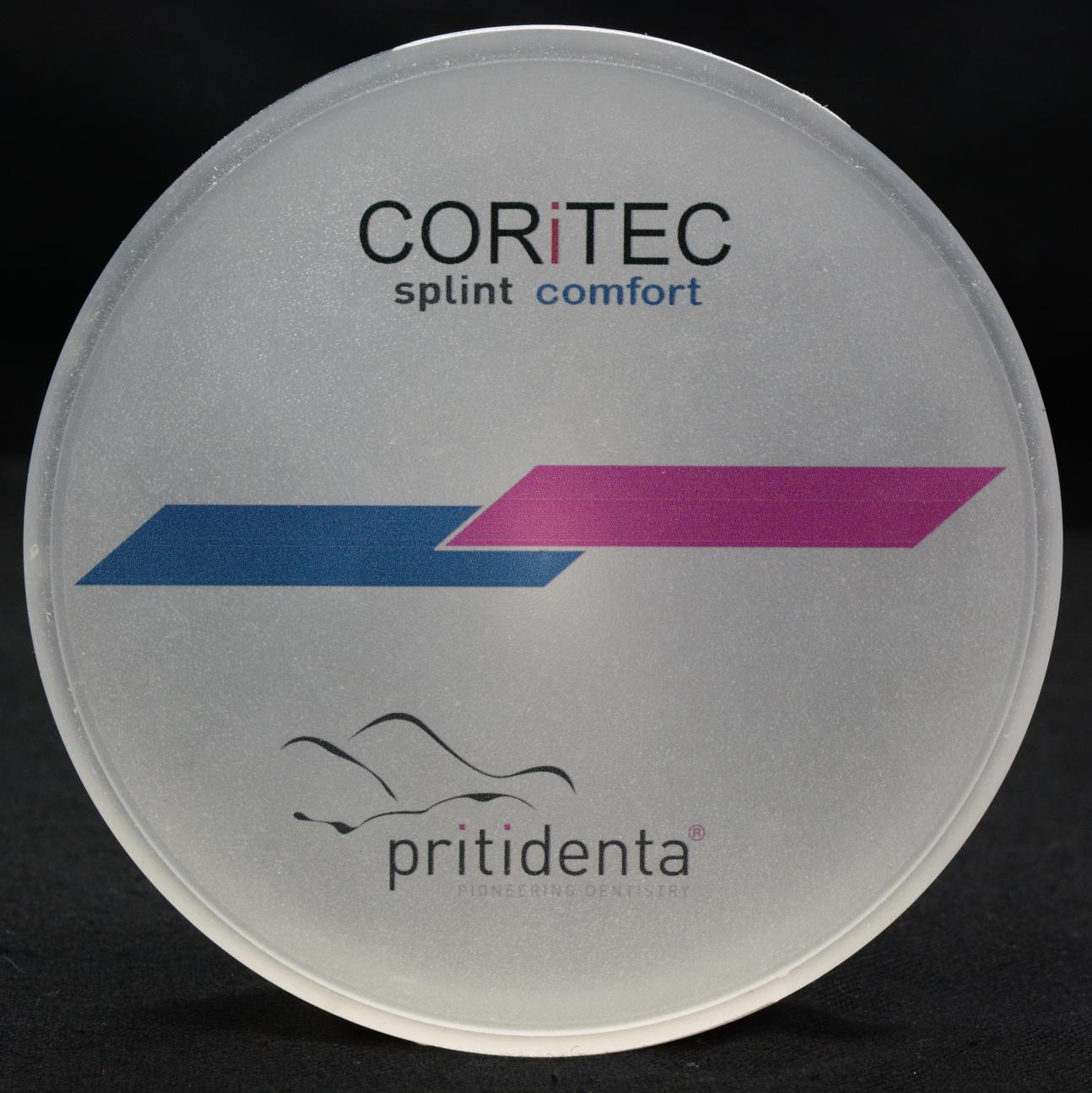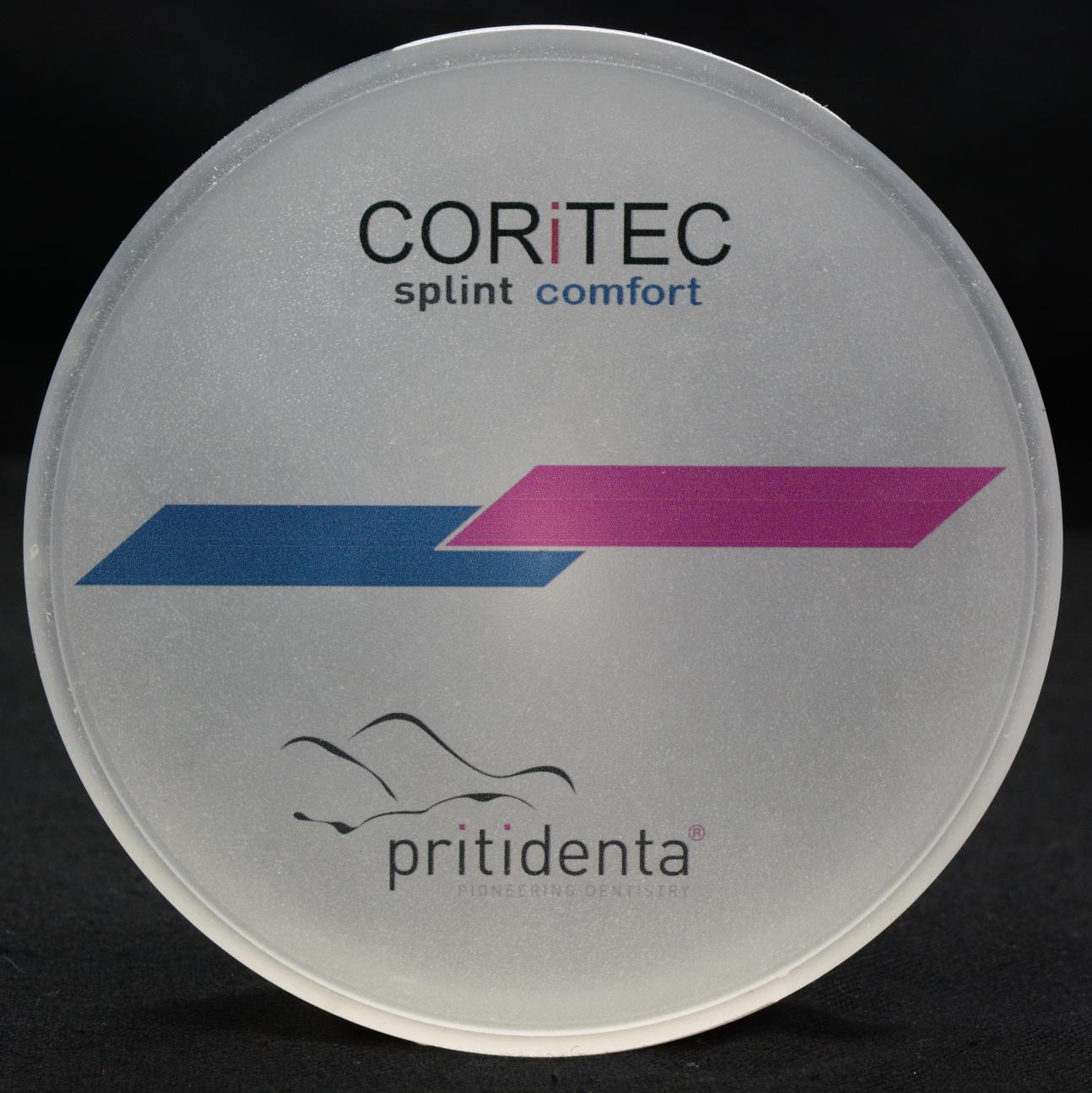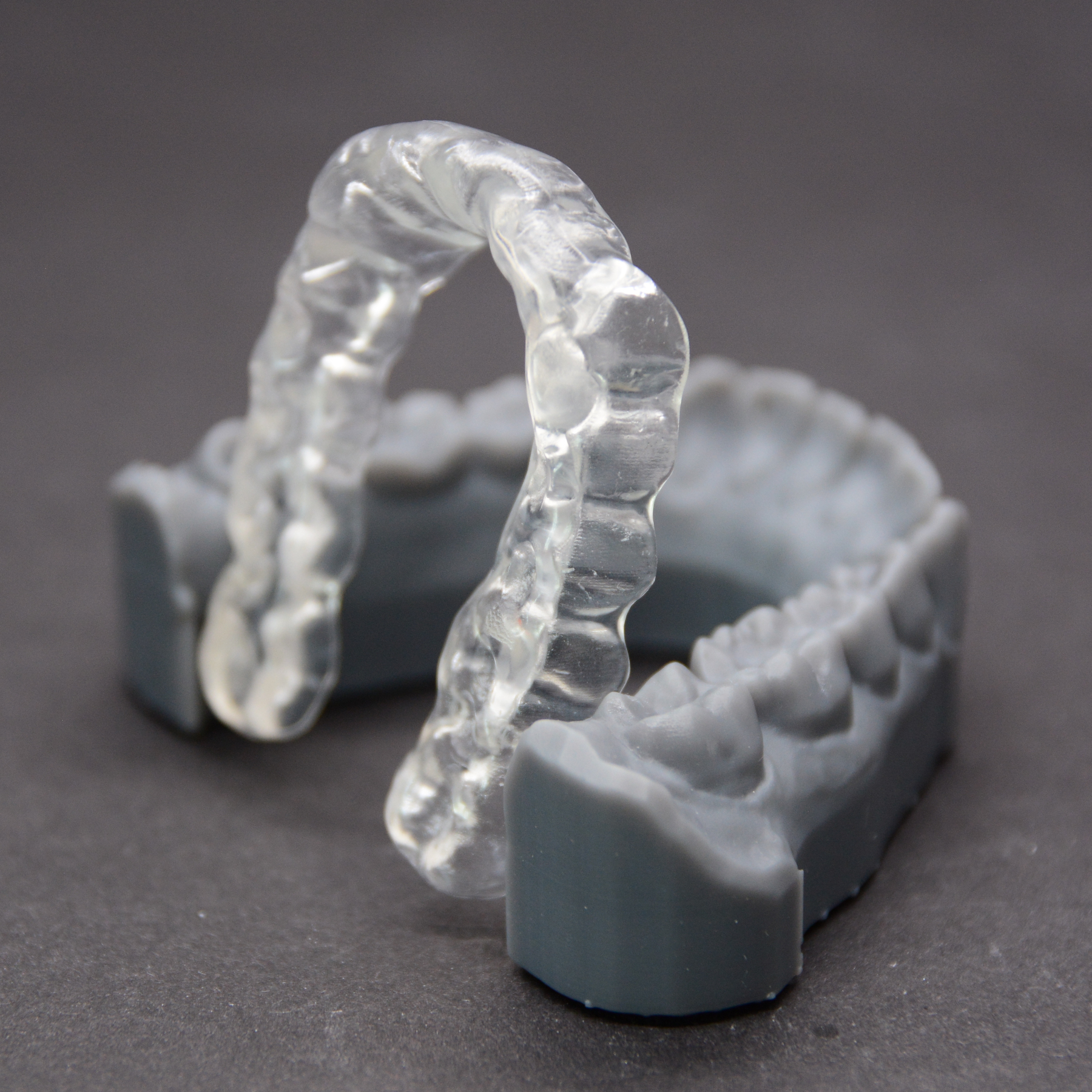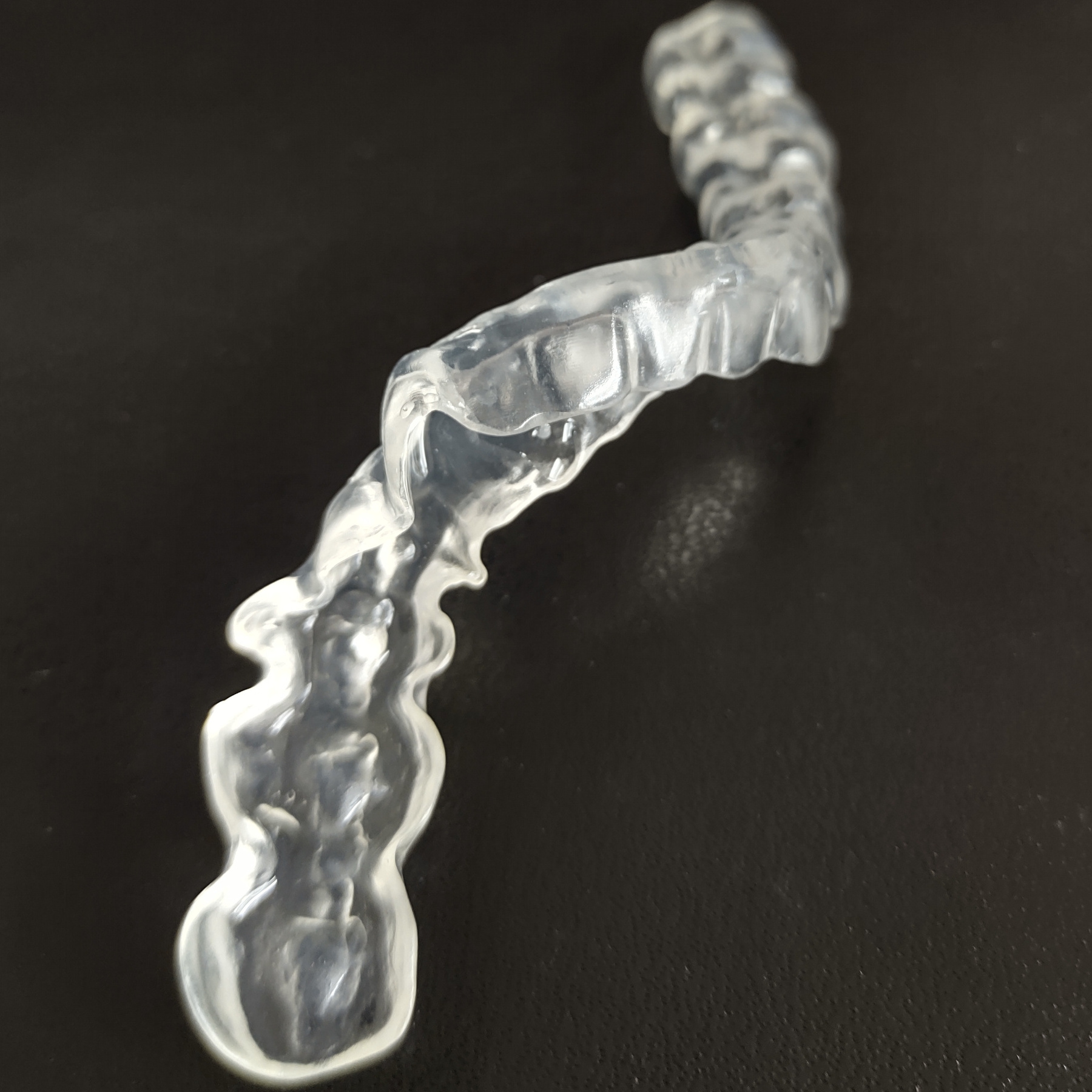 CORiTEC splint comfort
CORiTEC splint comfort – wearing comfort redefined.
The ultimate wearing comfort: becomes more flexible at mouth temperature and adapts to the individual tooth situation

Combines the impossible: flexibility and strength

Highly biocompatible
CORiTEC splint comfort – Innovation Made in Germany!
HIGHLIGHTS
CORiTEC splint comfort is different from conventional splint materials. Thanks to its patented technology, CORiTEC splint comfort adapts to the individual situation in the mouth in a reversible way - every day anew. The material becomes much more flexible at mouth temperature, so that a pressure-free and unique wearing comfort is achieved. You forget that you are wearing a splint! CORiTEC splint comfort also has cushioning properties, which makes it ideal for patients with bruxism.
CORiTEC splint comfort is highly biocompatible. The flexibiliser used is the only one of its kind approved for medical devices. In contrast to other materials of this class, CORiTEC splint comfort contains no di-benzoyl peroxide, which might cause skin irritation.
Thanks to its high resistance to yellowing and plaque, CORiTEC splint comfort remains extremely aesthetic even after long use.
INDICATION
Occlusal splints

Reflex splints

Repositioning splints

Stabilization splints

Therapeutic splints
MATERIAL
CORiTEC splint comfort is a flexible splint material.
Properties
Color
clear-transparent
Density
1.1 g/cm3
Bending strength

at 23 °C (room temperature): > 20 MPa

at 37 °C (mouth temperature): < 20 MPa

➔ unique fit and exceptional wearing comfort
Chemical composition

> 90 % PEMA (Poly(m)etyl methacrylate)

< 10 % DINCH (1,2-Cyclohexane dicarboxylic acid diisononyl ester)
APPLICATION
CORiTEC splint comfort blanks are used for the CAD/CAM-production of occlusal splints. Use suitable cross-cut carbide burs only.

Do not clamp the blank too tightly in the milling machine, 0.6 Nm is sufficient.

For removing the splint from the blank use suitable cross-cut carbide burs or cutting discs suitable for composites. Do not apply pressure.

Minimum wall thickness: 0.9 mm (for aesthetic reasons 0,8 mm is permitted in the labial region)

In order to avoid plaque accumulation, subsequent polishing of the splints is essential. Please pre-polish with suitable silicone polishers and goat's hair polishers. Avoid heat development at all times.

Upon completion, use an ultrasonic bath with water at a maximum temperature of 35 °C. Cleaning solutions are not recommended.

For repair and addition of material please use THERMEO® powder liquid system by pro3dure medical GmbH to preserve the advantageous wearing comfort of the splint, which is lost when not using this system. Please observe the instructions for use.
Roughing:
2 mm ball radius cutter – single cutter

Speed: 22.000 rpm

Radial path distance: 0,6 mm

Z depth increase: 0,6 mm

Feed: 1.600 mm/min
Finishing:
2 mm ball radius cutter – single cutter

Speed: 22.000 rpm

Radial path distance: 0,1 mm

Z depth increase: 0,1 mm

Feed: 1.600 mm/min
Rest-roughing:
1 mm ball radius cutter – single cutter

Speed: 28.000 rpm

Radial path distance: 0,1 mm

Z depth increase: 0,1 mm

Feed: 1.200 mm/min
The cooling/irrigation nozzles located on the spindle should be aligned with the tool tip. In this case, a uniform programming length must be observed or a tool length of 2 mm should be assumed. Air is sufficient as a cooling medium.
Please also observe the instructions for use.
Important information for the patient
In certain cases, the individual oral environment can lead to deposits, discoloration, smell and taste impairments as well as wear and tear (abrasion) on your splint over the course of its use. Regular inspection of the splint by your dentist and careful cleaning can extend the useful life of your splint. In certain cases, it may be necessary to replace the splint.
Instructions for use
Always clean your teeth thoroughly before inserting your splint.
To make it easier to insert the splint, it is advisable to warm it for about 30 seconds in warm water (approx. 113 °F/45 °C).
Always remove the splint for eating and drinking, to avoid the risk of breakage, abrasion and discoloration.
After eating and drinking start again with step 1.
Cleaning and Care
Rinse your splint with warm water after wearing it and clean all surfaces with a soft toothbrush. To get rid of deposits and to avoid bad smell and taste (refreshing the splint), cleaning with a professional non-alcoholic cleaning agent (EU: e.g. Cetron by Scheu Dental / USA: Denture Cleanser by CVS Pharmacy Inc. or Citrus II by Beaumont Products Inc.) is recommended once a week or as required.
Avoid the following cleaning agents
toothpaste or commercially available denture cleaning agents
alcohol-based detergents or mouthwashes
abrasives or general household cleaners
hot water (> 140 °F/60 °C) or ultrasonic cleaning devices
Storage
If you are not wearing your CORiTEC® splint comfort, please store it in a dark and dry place at room temperature.
VARIANTS
| | |
| --- | --- |
| Height | Order number |
| 16 mm | PEMCR00016 |
| 20 mm | PEMCR00020 |
---
Instructions for use
Do you need the instructions for use for this product? interactive search
---
---